General Recommendations and Concluding Observations on HIV/AIDS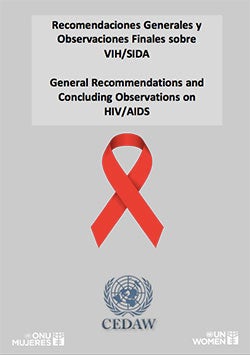 UN Women's Regional Office for the Americas and the Caribbean has made a compilation of the General Recommendations of the Committee on the Elimination of Discrimination against Women (CEDAW Committee) and of the Concluding Observations issued to States Parties, refering to HIV/AIDS, due to the feminization of the HIV/AIDS epidemic in the region in recent years.
The document includes, in its first part, the General Recommendations issued by the Committee that mention specific issues on the situation and status of women and girls living with HIV/AIDS, and in its second part, the recommendations contemplated as part of the Concluding Observations issued to States Parties to the Convention on the Elimination of All Forms of Discrimination against Women (CEDAW).
The CEDAW Committee published in 1990 for the first time a General Recommendation, No. 15, which specifically outlines the incipient "need to prevent discrimination against women in national preventive and fighting action strategies against the immunodeficiency syndrome (AIDS) ". Because of the scope of HIV/AIDS, all country reports and all concluding observations have to include a report on the progress and challenges of the epidemic in States Parties.
The purpose of this compilation is to give visibility and diffusion to the main problems and challenges experienced by women and girls living with HIV/AIDS in Latin America and the Caribbean and by those who are at risk of contracting it.
The fundamental issues of concern expressed by the Committee, common to most States Parties, are:
a) The feminization of the HIV/AIDS epidemic
b) The scarcity of exhaustive research to determine factors contributing to the feminization of HIV/AIDS
c) The increasing incidence of HIV/AIDS among adolescents
d) The lack of sexual and reproductive education that directly influences the infection
e) Presumptive cases of involuntary sterilization in women with HIV/AIDS, as well as cases of mandatory HIV/AIDS testing for pregnant women
f) Free access for women and girls to antiretrovirals in order to avoid mother-to-child transmission
g) Equal access for women and men to treatment and prevention of HIV and AIDS.
h) The lack of special measures for women with HIV/AIDS
i) The absence of public information campaigns at national and local levels
In June 2012, UN Women became the eleventh co-sponsor of the Joint United Nations Program on HIV/AIDS (UNAIDS), which was a major step towards ensuring that gender equality is a central element in global action related to HIV. In addition, UN Women also supports efforts to include gender equality in each one of the key objectives of UNAIDS work and collaborates closely with co-sponsors to achieve these goals and meet the needs of women and girls. These objectives include ending gender-based violence and ensuring that national AIDS strategies address issues related to their rights and needs in the context of HIV.
View online/download
Bibliographic information