Strategies for the prevention of violence against women in the context of COVID-19 in Latin America and the Caribbean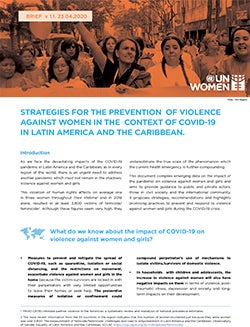 As we face the devastating impacts of the COVID-19 pandemic in Latin America and the Caribbean, as in every region of the world, there is an urgent need to address another pandemic which must not remain in the shadows: Violence against women and girls.

This violation of human rights affects on average one in three women throughout their lifetime1 and in 2018 alone, resulted in at least 3,800 victims of femicide/ feminicide2. Although these figures seem very high, they underestimate the true scale of the phenomenon which the current health emergency is further compounding.

This document compiles emerging data on the impact of the pandemic on violence against women and girls and aims to provide guidance to public and private actors, those in civil society and the international community. It proposes strategies, recommendations and highlights promising practices to prevent and respond to violence against women and girls during the COVID-19 crisis.
View online/download
Bibliographic information