UN Women, ILO and the European Union train 282 Latin American and Caribbean businesswomen and entrepreneurs
The Program organized a free, regional, virtual training focused on learning tools to strengthen women's economic empowerment and leadership
Date: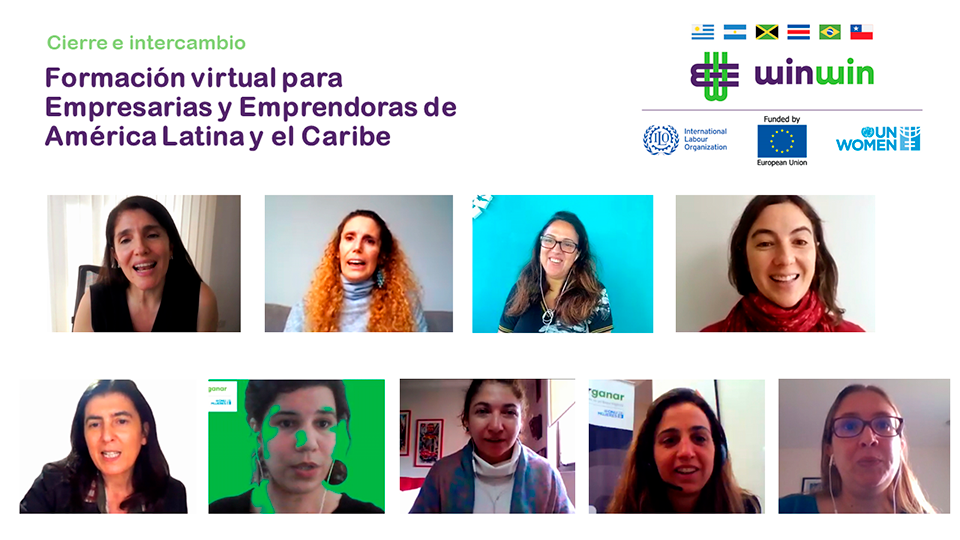 The "Win-Win: Equality means Business" Programme, implemented by UN Women, the International Labor Organization (ILO) and the European Union -main financier through its Partnership Tool-, closed the Virtual Training for Women Entrepreneurs in Latin America and the Caribbean with the participation of attendees from all over the region. The course, which began on 25 May, ended on 24 July with the delivery of the final papers.

Paula Narváez, Officer in Charge and acting representative of UN Women Argentina, said that "Of the 344 female entrepreneurs registered, 82% (282) completed the training, a very high percentage considering that it was a two-month activity, offline and free of charge for the participants". "The participants are from very diverse backgrounds and the majority are leaders of entrepreneurship and companies between 3 and 20 years old, with an average of more than five years in their positions," Narváez added.

Bárbara Roces, responsible for the management of the Win-Win Program from the European Union, congratulated the impact and the large number of participants. "The women entrepreneurs are going through a difficult moment, since many belong to the segment of the SMEs, the most affected by the current situation. Faced with this difficulty, women are coming together, weaving networks and supporting each other. This activity is an example of this collaboration at a regional level and I hope that we will encourage it further. It is also an example of collaboration between the EU and the United Nations. We would be for that network to be not only regional, but to cross the ocean," said Roces.

"From ILO we are working on strengthening leadership in times of COVID-19. In June, we launched the Latin American and Caribbean Women Entrepreneurs' Network and decided to talk about positive actions during the pandemic, because crises also bring opportunities," said Victoria Giulietti.

Structured in three modules, the course dealt with general concepts on equality and economic empowerment that emphasize tools to boost a business: financial calculation, professional network management, economic gender violence, procurement chain management with a gender perspective or getting started in exports.

This training has as a background the Program "Strengthening Networks of Women Entrepreneurs", carried out in Argentina in 2019 with the aim of strengthening the capacities of associations, organizations and networks of women entrepreneurs and business women, with the participation of 270 women.