Virtual platform to connect more than 3.8 million women in Latin America and the Caribbean around technology and entrepreneurship
Date: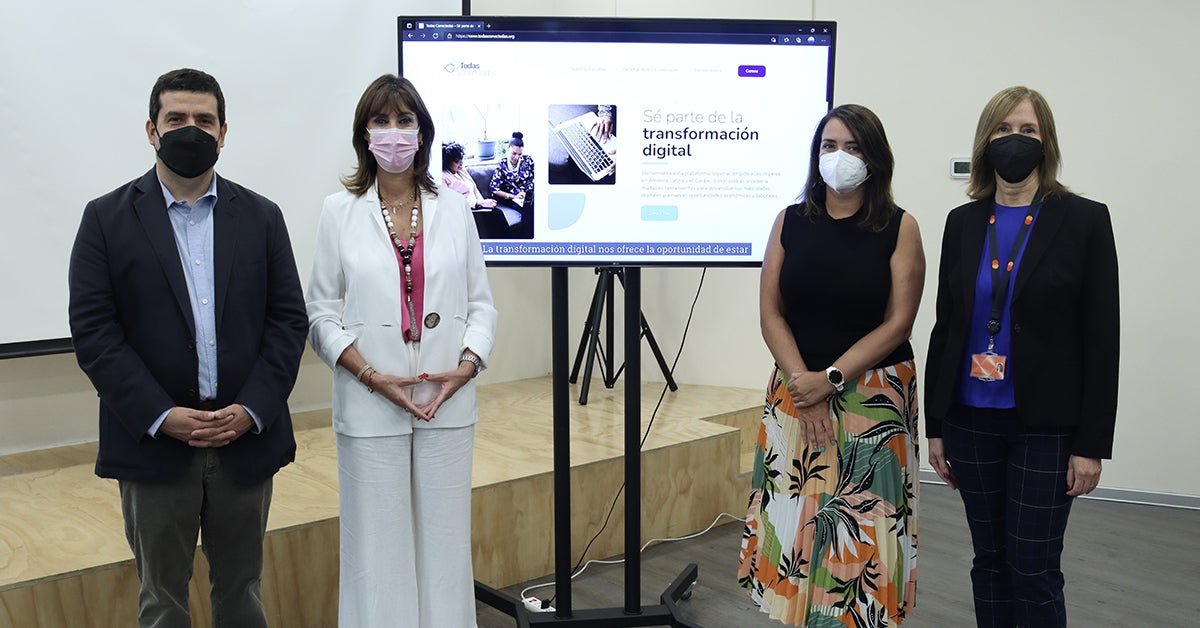 #TodasConectadas is a project of the Regional Alliance for the Digitalization of Women in Latin America and the Caribbean -a multisectoral regional cooperation initiative- which was created within the framework of the Regional Conference on Women, under the leadership of the Government of Chile, through the Minister of Women and Gender Equity of Chile and President of the Regional Conference on Women in Latin America and the Caribbean, Mónica Zalaquett, and was presented as a collective commitment to gender equality at the global level at the Generation Equality Forum. 
Inclusive digital transformation 
The possibility of providing digital training opportunities to women in Latin America and the Caribbean to access more and better opportunities in the digital economy was what brought together the Ministry of Women and Gender Equality of Chile with UN Women, Microsoft Eidos Global, and Mastercard. This action is aligned to contribute to the post-pandemic economic recovery while facilitating women's access to digital technologies and skills so that they can be protagonists of tomorrow's digital economy. 
The training materials available on the platform and online can be accessed and attended 100% free of charge. In addition, they are designed to be accessible with all types of bandwidth -even for places with a poor internet connection- and from any device, allowing them to reach women in different corners of the region. 
 "Throughout history, women have faced different gaps in multiple dimensions. Aware that the digital revolution has transformed the world of work, today we are launching #TodasConectadas. This platform will provide the necessary tools to help level the playing field in the use of new technologies and thus prevent women from having to face a new barrier that ends up limiting our economic autonomy," said the Minister of Women and Gender Equality, Mónica Zalaquett, who promoted the public-private initiative #TodasConectadas. "I want to thank Microsoft and Mastercard who believed in us and, especially, UN Women, whose valuable support will allow this project to transcend the governments in power and become a regional public good," concluded the Secretary of State. 
The available courses, free of charge, on the platform will allow women to develop digital skills, entrepreneurs to strengthen their digital presence and boost their businesses, and contribute to the digital financial inclusion of women. 
To this end, Microsoft made available (on the platform) UNESCO-certified course programs focused on job skills ranging from digital citizenship competencies (critical thinking, safety, creativity), and transversal skills (effective communication, leadership), to training in roles such as sales representative, project management or digital marketing; and technical skills (programming, data analysis, artificial intelligence). 
"Today, collaboration, technological learning, and inclusion are key to access more opportunities for everyone. By bringing digital skills training to more women in Latin America, we seek to support them so that they can become entrepreneurs, improve their employment situation and ultimately bring more opportunities for their future. We cannot achieve these goals by working alone; the only way to achieve them is by working together, the States, the private sector, and civil society organizations. #TodasConectadas brings together the vision and efforts necessary for millions of women in the region to have the tools to help them improve their lives," said Jorge Cella, director of Microsoft Philanthropy Latin America. 
"Access to quality education, lack of support networks, and economic opportunities are one of the most serious inequalities and discrimination affecting women. This excludes them from opportunities for empowerment, social advancement, and economic freedom. Such discrimination is even worse in the areas of technology and STEM careers. The #TodasConectadas platform is an opportunity to give many women in Latin America and the Caribbean access to education, connection, and economic opportunities that they have been denied in other instances. The more autonomy, the less violence against women," said Maria Ines Salamanca, UN Women Regional Strategic Partnerships Specialist. 
"Supporting women and supporting their businesses is closely linked to driving economic growth in the communities in which they operate. By making women economically resilient in an increasingly digital age, we are creating a catalytic effect for all of Latin America and the Caribbean," said Kiki del Valle, executive vice president, Latin America and Caribbean Market Development, Mastercard. "Our collaboration with the #TodasConectadas platform is a key part of our global commitment to include one million people in the digital economy, including a direct focus on providing 25 million women entrepreneurs with solutions to grow their businesses." 
According to María Eugenia Carracedo, Director of Communications at the NGO Eidos Global, "The remote learning of new skills that #TodasConectadas proposes has the enormous power to provide women with the opportunity to continue learning, especially considering that the unequal distribution of care tasks often leaves us relegated in the possibility of accessing instances of training, development and professional growth." 
In the future, this platform will continue to grow to incorporate more training resources and community spaces, being a linking point to the various initiatives in the region, so that more women can go digital, acquire new tools and expand their networks locally and regionally, in addition to enhancing their enterprises, access more and better job opportunities and participate in digital markets where they can market and access products online. 
The platform is easily accessible from any device at www.todasconectadas.org.
About the Chilean Ministry of Women and Gender Equity 
The Ministry of Women and Gender Equity of Chile is the Secretary of State in charge of collaborating with the President of the Republic in the design, coordination and evaluation of policies, plans, and programs aimed at promoting gender equity, equal rights and to seek the elimination of all forms of arbitrary discrimination against women. 
About Microsoft 
Microsoft (Nasdaq "MSFT" @microsoft) enables digital transformation for the era of the intelligent cloud and the ambient intelligent environment. Its mission is to empower every person and organization on the planet to accomplish more 
About UN Women 
UN Women is the United Nations organization dedicated to advancing gender equality and women's empowerment. As a global champion for women and girls, UN Women was established to accelerate progress to improve the lives of women and respond to the needs they face around the world. 
About Mastercard (NYSE: MA) 
Mastercard is a technology company in the global payments industry. Our mission is to connect and drive an inclusive digital economy that benefits everyone, everywhere, by making transactions secure, simple, smart, and accessible. With connections across more than 210 countries and territories, we are building a sustainable world that opens up priceless possibilities for everyone. 
About Eidos Global 
Eidos Global is a nonprofit organization focused on developing impactful educational initiatives that prepare people with essential skills and knowledge for life and employment in the 21st century.