UN Women and IDB sign Memorandum of Understanding
Both organizations look forward to expanding their cooperation throughout Latin America and the Caribbean
Date: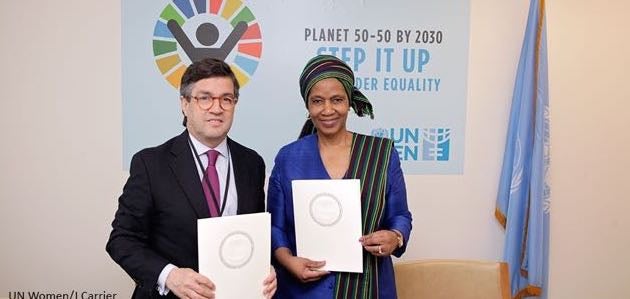 Today UN Women Executive Director, Ms. Phumzile Mlambo-Ngcuka and the President of the Inter-American Development Bank, Mr. Luis Alberto Moreno signed a Memorandum of Understanding between their respective institutions. Through this, the two organizations look forward to expanding their cooperation throughout Latin America and the Caribbean in areas related to ending violence against women, women's economic empowerment, increasing women's political participation, mainstreaming a gender perspective in financial instruments, and ensuring a strong response for women and girls in the citizen security agenda.
After the signing ceremony, the Executive Director of UN Women said: "We hope this agreement can serve as a model for our cooperation with multilateral development banks, which are called to play a key role in promoting gender equality and the empowerment of women, through direct funding and a strong gender mainstreaming initiatives and development strategies ".
The signing took place during the 60th Commission on the Status of Women, during which time, President Moreno participated in and delivered remarks at the annual Women's Empowerment Principles (WEPs) Event. The WEPs is a partnership initiative of UN Women and the UN Global Compact. The annual event focuses on the role and impact of business to advance gender equality and brings together leaders from business, Government, the UN and civil society to share strategies, experience, challenges and best practices on advancing women's empowerment and equality between women and men in the workplace, marketplace and community.