Women in leadership: Meet Justice LisaRamsumair-Hinds, advocating for gender sensitive adjudication around the world.
Justice Lisa Ramsumair-Hinds, a judge in Trinidad and Tobago, is a champion for gender-sensitive adjudication, raising awareness and sharing her knowledge around the world. She talks about how support at home and mentorship from other judges played a crucial role in her success.
Date: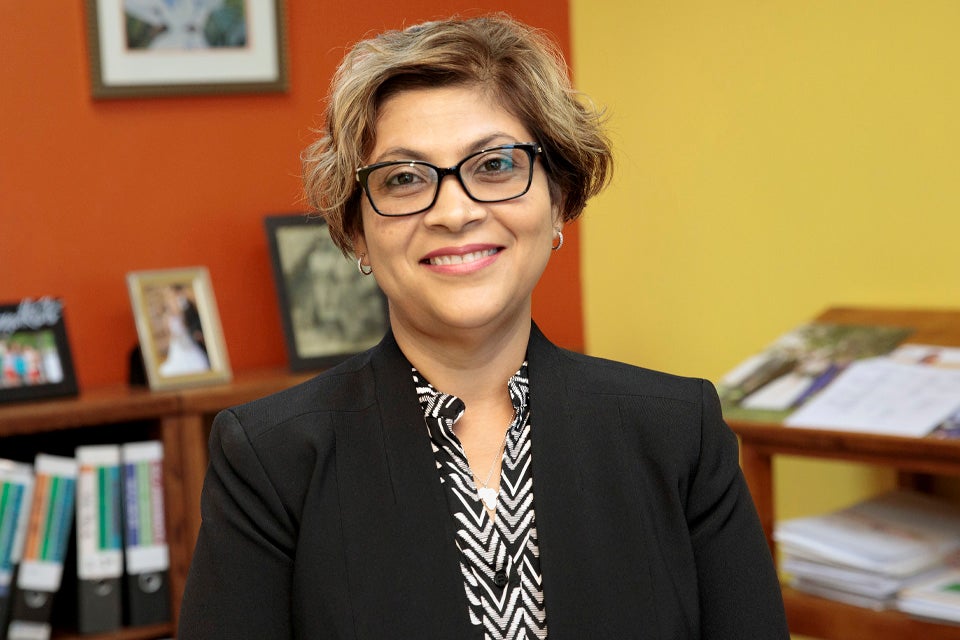 "What keeps me going? There are still so many women and girls who need help. I am a part of the solution from within."

Justice Ramsumair-Hinds believes that in the legal field women are occupying many more seats in the courtrooms and on the Bench.

"At present, 66% of our Magistrates and 77 % of our High Court Judges are women. In fact, the last 11 appointments to the High Court (in the past 3 years) were women judges. And while there are only 5 women now sitting in our Court of Appeal (out of a total of 16 judges), 3 of the 7 elevations last year were women judges. I believe that it is just a matter of time before we follow the example of Jamaica, Guyana and the OECS to have a woman appointed as Chief Justice."

However, Justice Ramsumair-Hinds thinks that for all the gains in academic circles and judicial appointments, society still struggles under toxic manifestations of gender inequality. For example, even with a progressive Domestic Violence Act, Trinidad and Tobago still has very high domestic violence (intimate partner violence) prevalence rates.

"Until we acknowledge that the way we account for murder-suicides in crime statistics is an aberration, domestic violence will continue with impunity. Until we demand a genuine end to gender based violence, we will keep advising girls to avoid 'allowing' themselves to become victims of rape instead of denouncing their attackers by making them accountable."
Empower women and girls to demand a seat at the table.
Justice Lisa Ramsumair-Hinds notes that women and girls have outperformed their male counterparts at every level of education in the Caribbean.

"The late Ruth Bader Ginsburg said, 'Until there are nine.' I get that. But until more underprivileged little girls believe they can become one of the nine, gender equity remains a privilege."

An additional concern for Justice Ramsumair-Hinds is that there are many young women who believe that they have already attained equality because of their present seats at the table.

"They remain uninvolved because they did not have to fight and so, they take their rights for granted. For example, during the furious national debate on child marriage a few years ago, I was dismayed that there was hardly any voice at all from girls in our high schools."

"It will take them time to realize they are still impeded by a glass ceiling. We must be careful to include this generation because they are game changers. They have genuine economic power."

"I recall in my own story, when my father began speaking about marriage when I was in Form 1 at a prestigious high school. I challenged him by asking why he forced me to study so hard to pass for that school if he didn't intend to let me finish my education," she adds.

"I am proud that this little Indian girl from a broken home, who grew up without indoor plumbing for years and had no money to commute to school in sixth form, made it this far and at a younger age than most. When I apply an understanding of intersectionality to my story, I know that I have been fortunate. My hope is that more little girls in humble beginnings realize their potential."
Developing a Gender Protocol for Judicial Officers in the Caribbean
Since 2015, Justice Ramsumair-Hinds has been actively involved in a UN Women/Caribbean Association of Judicial Officers (CAJO) collaboration under the Canada-funded Caribbean Court of Justice JURIST Project that has set and achieved targets in relation to institutional capacity building and judicial accountability towards eradicating gender-based violence.

One major accomplishment was the development of a draft Gender Protocol for Judicial Officers which was handed over to regional Chief Justices. Since then, 3 out of 4 regional Judiciaries have launched their individualized Gender Protocols.

UN Women and CAJO then conducted an intensive 3-part regional Train-the-Trainer Programme in Gender Sensitive Adjudication. Since that time, Justice Ramsumair-Hinds has been heavily involved in Trinidad and Tobago and in other parts of the region as a facilitator in gender sensitive adjudication and the use of the protocols.

"Between December 2020 to February 2021, under COVID-19 constraints, I facilitated virtual trainings on our Domestic Violence legislation (which underwent a major overhaul in 2020) to over 600 attendants, which included judicial officers, judiciary staff (at various levels) and external justice sector partners. Raising awareness is integral to advocacy."

"I have also been partnered, again through UN Women, with judicial officers and other justice sector partners in South Africa, through the UN Women South-South Exchange in 2018. That was followed by an invitation to return to South Africa in 2019 during the 16 Days of Activism. Knowledge sharing has been critical in my personal development as a woman judge."

On March 8th, Justice Ramsumair-Hinds will begin training judicial officers in Nigeria in gender sensitive adjudication and is set to assist in the development of their own Gender Protocol, another connection made by UN Women.