International Day of Democracy
Date: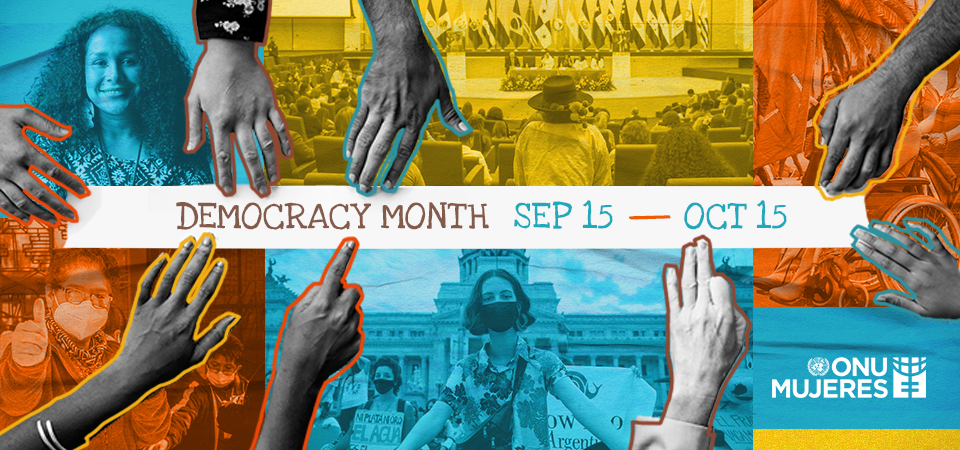 Since 2007, every September 15, the International Day of Democracy is commemorated around the world. Proclaimed by the United Nations General Assembly, this day is an opportunity to remember that democracy is a process and a goal, which must be people-centered, and constitute the environment for the protection and effective realization of human rights.

The values of freedom, respect for human rights and the principle of periodic elections by universal suffrage are essential elements of democracy. These values are embodied in the Universal Declaration of Human Rights and developed in the International Covenant on Civil and Political Rights, which enshrines a range of political rights and civil liberties that underpin meaningful democracies.

Only with the full participation and support of the international community, governments, civil society and citizens can the ideal of democracy become a reality for all people throughout the world.

UN Women, in accordance with its mandate to promote gender equality, has the great challenge of supporting the aspirations for freedom, equality, autonomy and self-determination of more than half of the population: women and girls in all their diversity. Under the conviction that equality is the essence of the Rule of Law, UN Women works to consolidate the equal and inclusive participation of women and girls in democratic processes and promotes guarantees for the full exercise of their civil and political rights.

Latin America and the Caribbean has been at the forefront in the recognition and advancement of women's political rights, with a robust regulatory compendium and a Regional Gender Agenda that outline the path to leveling opportunities for access to decision-making positions and generating the conditions to participate in substantive equality in public and political life. To date, nine countries in the region have some legal measure towards parity and another nine have quota laws, which has allowed for a significant increase in the number of women elected to collegiate bodies over the last two decades, reaching a regional average of 30.7% of women parliamentarians in 2021 (Map of Women in Politics, UN Women and IPU, 2021). In the executive branch, although only two Caribbean countries have a woman head of state or government -none in Latin America-, there were some commitments towards parity cabinets, which increased the regional percentage of women ministers to 27.1% (UN Women and IPU, 2021).

However, there are still significant gaps between and within countries in the region, especially at subnational levels where 24.5% of local government seats are held by women, with only 15.5% of women mayors in Latin America (ECLAC, 2018). Likewise, although there tend to be higher percentages of women graduates from judicial careers compared to men, their access to high positions in the supreme courts of justice remains limited (ATENEA, 2019).

In political life, women continue to face different forms of discrimination and gender-based violence. Additionally, structural barriers related to their economic autonomy and lack of co-responsibility for caregiving continue to limit their opportunities for equal participation. In a region as diverse as Latin America and the Caribbean, there continues to be a lack of plurality in spaces where the public agenda is discussed, with a disproportionate impact on indigenous, Afro-descendant, young, rural, disabled and sexually diverse women, among others.

For this reason, UN Women's Regional Office for the Americas and the Caribbean is working to promote Parity Democracy, an integral concept and strategy that catalyzes profound qualitative and quantitative transformations in all spheres and involves all branches of government and territorial levels. This horizon of parity democracy, sealed in several regional political consensuses, aims not only to strengthen representative democracy through the equal inclusion of women and men in elected and appointed positions and in mandates; it also proposes the development of policies to eliminate gender-based discrimination and violence, as well as the reduction of all inequalities. It proposes a democracy in which substantive equality and parity are the backbone of governance, and an inclusive and parity State as guarantor of the equality that must be generated.

This year, the theme chosen for the International Day of Democracy is "Democracy and Conflict Prevention", which focuses on the need to strengthen democratic institutions to promote peace and stability. In a context of multiple crises and conflicts affecting the region and the entire world, putting at risk the rights and autonomies gained by women in recent decades, parity and inclusive democracy is presented as an opportunity to consolidate the agenda of substantive equality in public priorities, essential for the response to global challenges and the achievement of sustainable development between now and 2030.