UN Women Regional Office for the Americas and the Caribbean opens a call for applications to the partial renewal of its Civil Society Advisory Group
The call for applications will remain open until June 20, 2023, at 11:59 pm (Panama Time)
Date: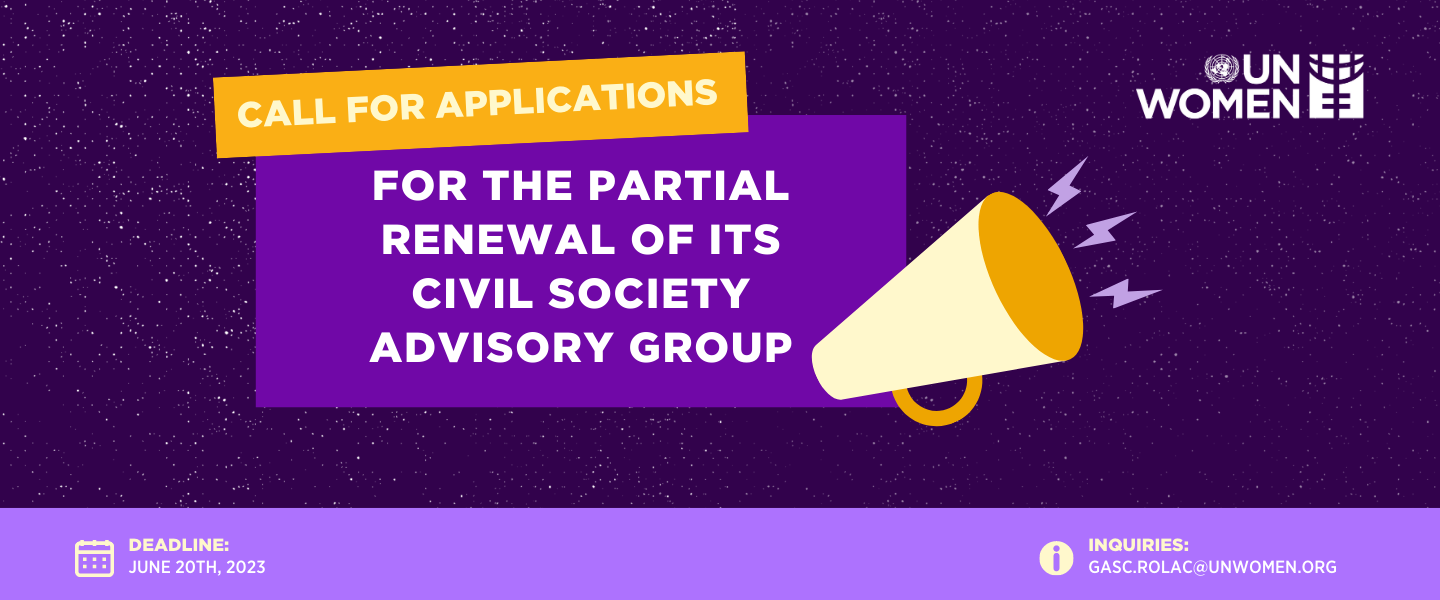 UN Women's Regional Office for the Americas and the Caribbean invites individuals with outstanding professional and/or activist careers in gender equality and women's empowerment to apply to join its Civil Society Advisory Group.
The Civil Society Advisory Groups (CSAGs) are institutional mechanisms for regular dialogue between UN Women and leaders of the gender equality movement to facilitate effective, ongoing, and structured consultations on key issues related to UN Women's mandate at the country, regional and global levels.
The group will have representation from all sub-regions of Latin America and the Caribbean (Anglophone and/or Francophone Caribbean; Mexico, Central America, and Hispanic Caribbean; Brazil and Southern Cone; and Andean Countries) and will have a maximum of 10 representatives from women's and feminist organizations, Afro-descendant women's rights advocates, indigenous, rural, refugee or migrant women, environmental and land defenders, women with disabilities, diversity and dissidence, youth, academia and/or trade union organizations and private sector.
The integration of the group will be based on thematic expertise in one or more priority areas for UN Women in the region: democracy, governance and participation in public life; elimination of violence against women; women, peace and security, humanitarian action and disaster risk reduction; women's economic empowerment; environment and climate change; and elimination of gender stereotypes and changes in social norms.
To apply, please complete and submit the following online form, and attach a curriculum vitae (maximum three pages) and two letters of support from organizations specializing in gender.
Before submitting your application, please review the Terms of Reference. Applications may be submitted in English and Spanish, the working languages of the CSAG.
If you have any questions, please send an email to [ Click to reveal ]