She's an Astronaut: Colombian girls at NASA
Date:
No dream is impossible to fulfill. That is what Mariana Ospina and Ingrid Guacheta repeat when they remember that, at just 16 and 15 years old, respectively, they visited NASA. This is thanks to the fact that in October 2019, the NASA Space Center signed an alliance for the development of the She's an Astronaut program, whose objective is to impact the lives of 31 Colombian girls between the ages of 9 and 16, who live in vulnerable situations, in rural areas of the country and who have mostly been affected by the armed conflict such as Putumayo, Cauca, Chocó, Bolívar, Meta, Santander, Magdalena and Cundinamarca.
 
She's an Austronaut   
The aim of She's an Astronaut, an initiative developed by the She Is Foundation and the NASA Space Center with the support of the Government of Sweden and UN Women, among other organizations, is that girls can learn about all the opportunities they could find in STEM (Science, Technology, Engineering and Mathematics) careers.
In this program, the girls learned about leadership, motivational dynamics, teamwork through problem-solving and communication management related to real situations in space.
In August 2021, 31 girls fulfilled their dream after waiting a long year because of the pandemic: landing at NASA. They were at the Space Center, a science learning and space exploration center which introduced them to different NASA missions.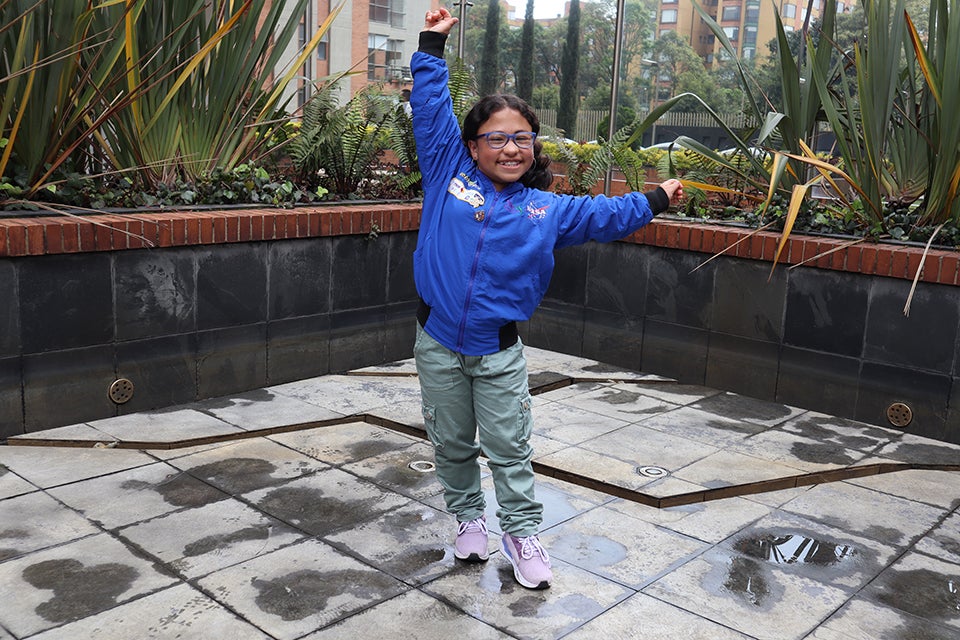 Mariana Ospina: "I want to be an inspiration for all girls."  
"I am 16 years old and live in Soacha, Cundinamarca. One of my biggest dreams is to be an astronomer and astrophysicist. My passion for science began on my uncle's farm. One night, while I was there, I managed to see the incredible sky without light. I looked up and told my uncle: I would like to be an astronomer, and he said, 'that's very good, but it is a field of a lot of theory, you must study a lot'. I was happy to hear him talk about the stars and how they are connected.
At that moment, I told myself that someday I would have to discover everything in the sky and all it's secrets. That's how my love for science was born, and it has been growing thanks to the She's an Astronaut program. I was happy to be among the girls from my neighborhood that were selected. At first, they told us that the trip would take place on March 26, 2020. I was very excited until just a week before, the airports were closed due to COVID-19, and we were put on hold. So instead of being a one-week program, it became a one-year program. It has been fascinating.
This trip changed my life. The program came at the best time because sometimes opportunities for young people in Colombia are scarce. Before the program, I was giving up on being an astronomer, I was losing hope, but this opportunity was like pouring water on a withering bush. It made me realize that I cannot give up on my dream, no matter how crazy it is.
When a girl becomes interested in science, the world changes. It is crucial to cultivate that idea so that girls see other horizons. This program radically influenced the adult I am becoming. I used to say that I would visit NASA when I turned 30 or 32 years old. In less than half of that time, I have already fulfilled my dream, which allowed me to acquire knowledge and learn about the importance of teamwork."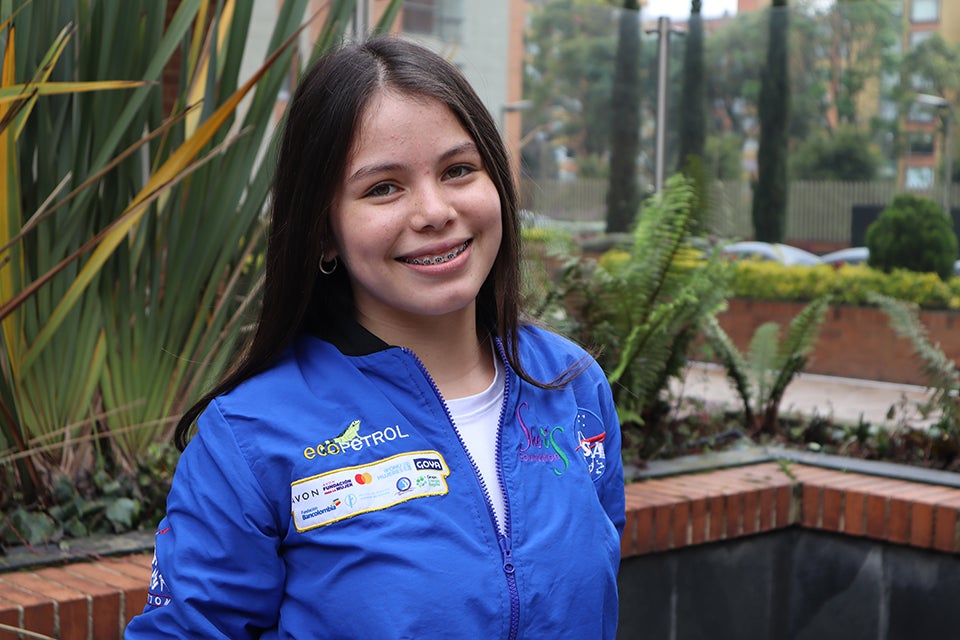 Ingrid Guacheta: "Girls can be anything we set our minds to."  
"I live in Corinto, Cauca, and I am 15 years old. Being in the program has been quite a complex process because the pandemic forced us to wait a year for the trip to NASA. But the wait turned into a journey in itself. I met the other girls, I learned from them, all this while they were teaching us about the lunar habitat, Mars, among many other things about space.
All of us who participated in the program are from remote municipalities, which is the main reason why we were selected. The concept was to bring together girls who are interested in STEM careers who could also motivate more girls. This program has made a huge difference in our lives by empowering us as women. STEM careers are studied mainly by men, and this program pushes us to break that stereotype. We should pursue that interest if we like science, and there should be no limits. There's no reason we can't be astronauts if that's our dream.
This trip changed my life tremendously. Getting to know the details of space up close being able to meet in person other amazing girls who, like me, dream of becoming scientists was marvelous. There are no words to explain it. I am very happy because we learned a lot. We have all brought back knowledge that we can replicate in our communities. Before the trip, I was not sure if I wanted to study a career that had to do with science; now, I am more than confident. With that certainty, I want to continue inspiring more girls.
Dreams do come true. I fulfilled my dream of going to NASA. We fulfilled it for 31 girls, and it was amazing. Maybe some say they can't, but they can. Dreams are not impossible. You have to be disciplined. We can all be whatever we set our minds to be."
Learn more stories of Colombian girls and women in science in the podcast Aquí Hablamos Todas.