María Nelsy Contreras Garzón: "Care is work and should be recognized as such".
Date: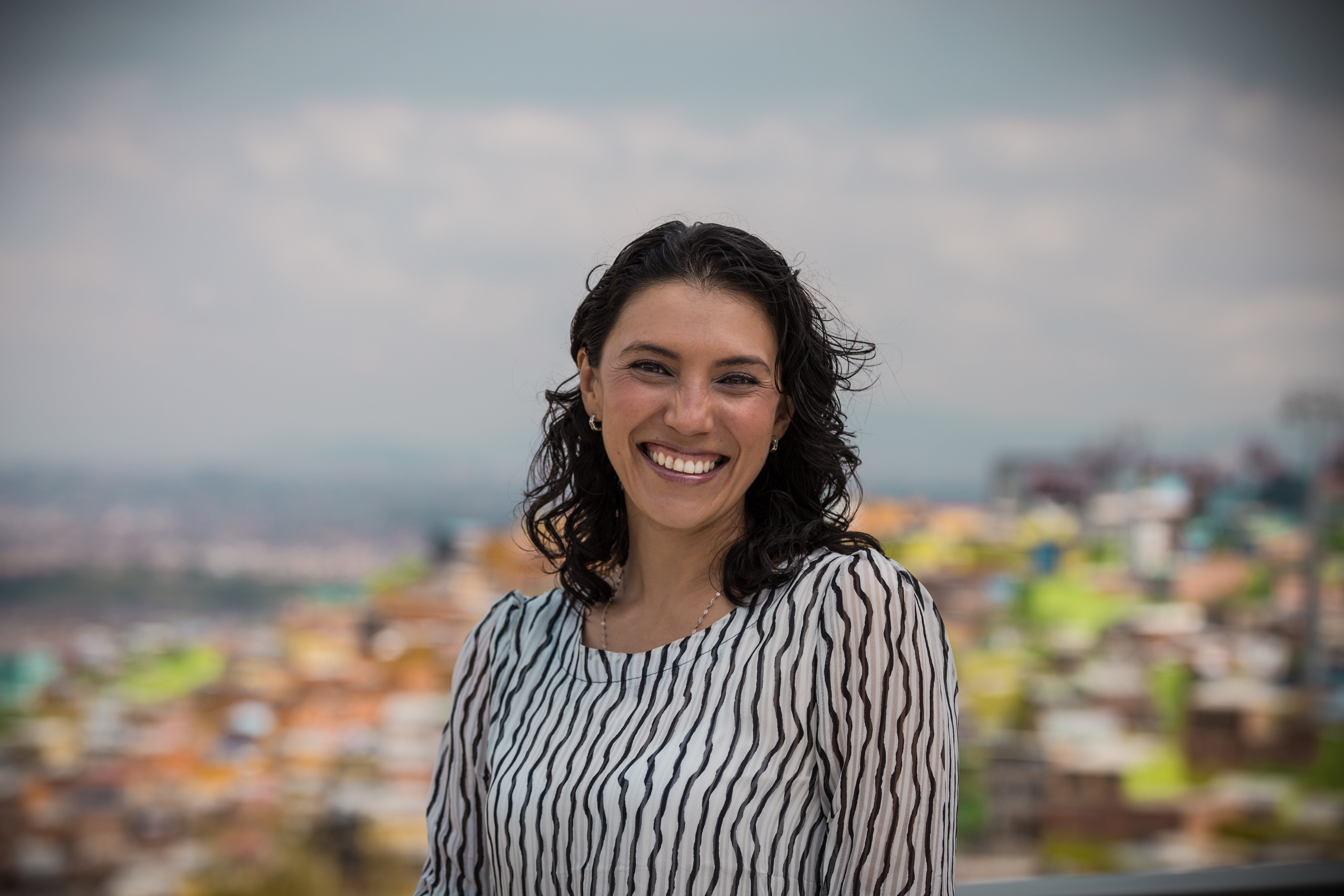 María Nelsy Contreras Garzón is a care worker who graduated from high school a little over a year ago. Her studies were postponed due to the care work she has always prioritized in her family. She is a caregiver for her 75-year-old mother and 16-year-old son, with whom she lives in the Jerusalén Bellavista neighborhood in Ciudad Bolívar, Bogotá, Colombia.  
Two years ago, she found out that at her local SuperCADE, there was a Care Block offering services for caregivers. To date, the Care Blocks have benefited more than 11,000 caregivers in Bogotá. This resource allowed her to complete her high school studies and advance in a virtual course on tools for caregivers, taught by the District Secretariat for Women and the National University of Colombia.  
"I live with my 75-year-old mother and my 16-year-old son. I entered the program for women caregivers in 2021 and from that moment on, life has changed significantly for me. I was able to finish high school and now I have a paid job. During this time, the most revealing thing that has happened to me is that I have become aware that caregiving is work and should be recognized as such," says Contreras.  
In Bogotá there are eight Care Blocks and five mobile units that reach urban and rural areas offering educational training and services, simultaneously guaranteeing alternatives that meet the needs of caregivers and the people they care for.   
All this is part of the District Care System to which, since 2020, UN Women, with the support of the Government of Sweden, has contributed to the design of the public policy that makes the initiative real and that seeks to establish actions for the accompaniment in the analysis of the supply and demand of care; analysis on masculinities and co-responsibility; design of the strategy for the territorial implementation of the System and the construction of Local Networks in the Care Blocks, among other strategic actions, which allow for the recognition of care work and those who perform it; redistribute care work between men and women and reduce unpaid care work time for caregivers.  
"Women have always been taught that we must take care of others. I have always done it with love, and I didn't think it had to be a visible task, I assumed it was something "natural". However, today when I see that the care that women do in our homes is not valued, it makes me very sad. Spaces like the Care Blocks are important to make this work visible, to be able to certify it and to make women aware that it is work and it is important," says María Nelsy.   
For her, this has been a process of self-discovery and valuing care. María Nelsy is one of the women who, because of the pandemic, saw her unpaid care work increase, dedicating on average twice as much time as men, who dedicate 3 hours and 25 minutes a day to this work compared to women who dedicate 7 hours and 14 minutes, according to the National Time Use Survey - ENUT, 2016 - 2017, of the National Administrative Department of Statistics, DANE.   
On International Labor Day, María Nelsy vindicates the work performed by 30 million people in Colombia, mostly women (60%, according to the National Time Use Survey - ENUT 2016 - 2017, DANE) in an unpaid manner.  
"Care is love, dedication, consistency, and total dedication. Care requires us to give all that we are. In this work one dedicates one's entire life. For me, despite the difficulties, becoming aware of the care work I have been doing for years has been an opportunity for personal growth," stresses María Nelsy.   
"To those who are still not convinced that care is work, I say: put yourselves in our shoes, do the work that we women do, such as getting up at 4 or 5 in the morning, taking care of our families, their clothes, their food, whether they are sick or not. At home we are not only mothers, wives, daughters or sisters, we are also psychologists, nurses, cooks. A thousand and one professions that we perform in one place: our home, a place so small, but that carries so many responsibilities, where we work so hard, but your work is never given importance. I encourage you to carry the suitcase of your caregivers, a daily suitcase that we cannot unload because we carry it 365 days a year, 24 hours a day, 7 days a week. It is a suitcase that only when we die do we stop carrying it," says Contreras.