In the words of Elizabeth Araúz: "teamwork has the potential to double and triple in achievements if you have several hands and hearts set on the same objective: to work so that humanitarian actions have a gender differentiated approach".
Ecuadorian anthropologist and feminist, Elizabeth Araúz, has dedicated her career to issues of gender, violence, humanitarian assistance, health, environment and interculturality. Since 2019 she has been the coordinator of the implementation of the Caminando project.
Date: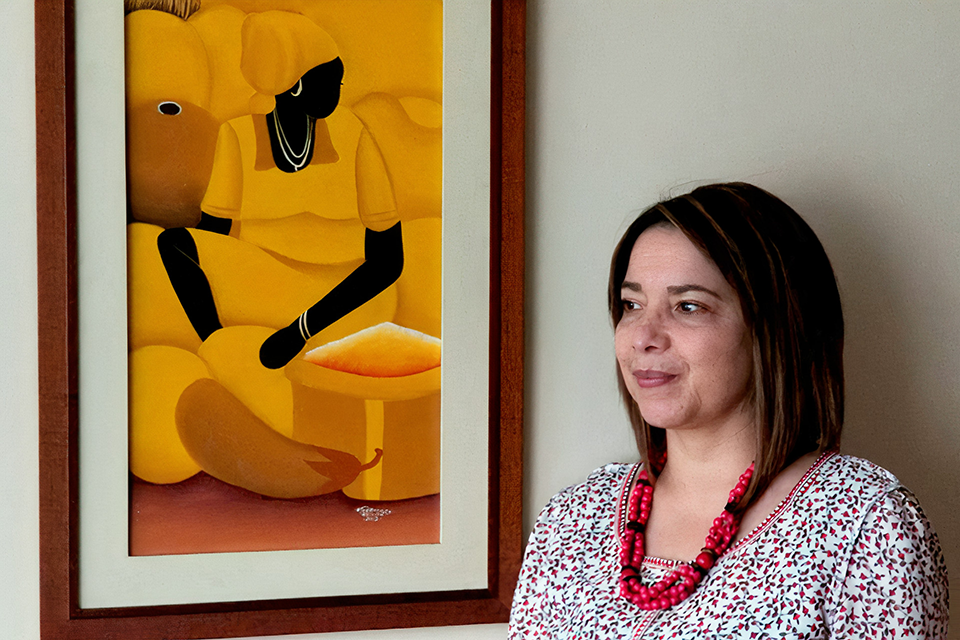 My role within the project is to coordinate, but, above all, to ensure that each member of the team or those who articulate actions with Caminando, falls in love with the project and commits to it, that they put their hearts into the work that we carry out with women in a situation of human mobility, so that "walking" becomes meaningful.   
Border territories have high mobility and social complexity. Contributing so that women in a situation of human mobility gain knowledge, have a livelihood and become part of the local social fabric through their participation, as well as ensuring from the State an adequate response to the needs of the population in a situation of human mobility, are actions that contribute to the construction of peace in the territories.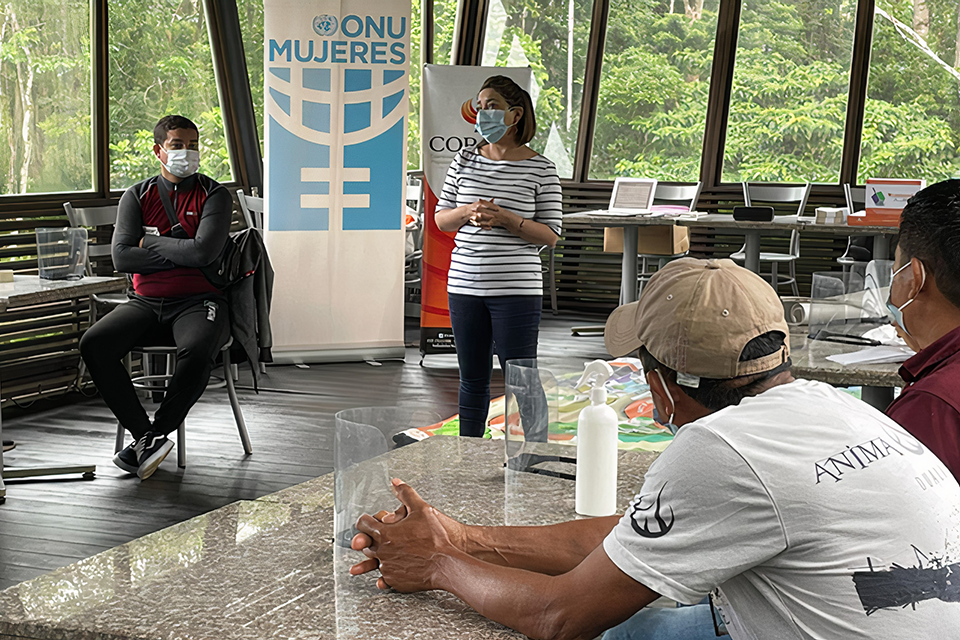 Within the project, it has been very gratifying to contribute to the economic empowerment of women and to see them start businesses and enterprises through which they are integrated into their host communities and increase their willingness to stay. Also, having integrated more than 800 men in human mobility and Ecuadorians as allies for the prevention of gender violence and co-responsibility for care has been a process that has taught us many lessons and has given us new elements in our work to achieve gender equality at the community level.   
Additionally, Caminando has developed a line of intervention that uses art to re-signify the experiences of gender violence faced by women on the migratory route, called "Art to heal and rebuild".   
These actions allow Ecuadorian, Venezuelan and Colombian women to develop joint artistic projects, acquiring knowledge and skills while re-signifying their life stories. These experiences have resulted in an important learning experience based on cultural diversity as a source of social exchange and an opportunity to expand the possibilities of their choices. A life in diversity strengthens social cohesion, leaving behind practices of xenophobia and discrimination for the construction of peace. 
At this time, when the migratory crisis has been increased by the current health crisis caused by COVID-19, it is essential to provide humanitarian assistance to migrant and refugee women, given the current feminization of the migratory phenomenon, recognizing that currently it is mostly women who migrate in search of family reunification or better opportunities and that, although they have a lot of potential and capabilities, it is the duty of the State and cooperation to provide them with opportunities. It is not only a matter of solving the problems resulting from migration and settlement, but also of providing opportunities for their integration and permanence.   
It is also important to reflect that an important challenge of humanitarian assistance is to identify the differentiated needs of men and women. In the specific case of women, they should be recognized not only as victims of the migration process, but also as individuals with their own agency, previous knowledge and as women who can contribute significantly to the development of territories and localities.     
For me, the greatest satisfaction of being part of the Caminando project has been in the interactions with the women and men who participate in the project; knowing their stories is an example of perseverance, but above all it is satisfying to know from their stories that being part of the project has allowed them to realize their potential and to value it. I see migrants and refugees with their stories as a light in the path.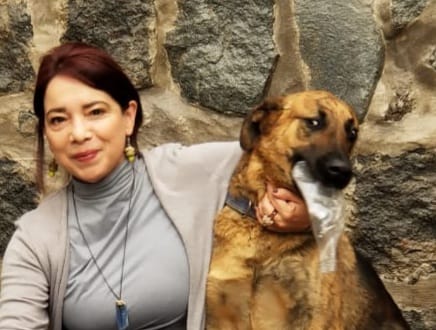 Photo: Courtesy of Elizabeth Araúz
Similarly, the project has reconfirmed for me the transformative potential of teamwork. The work of one person doubles and triples in achievements if there are several hands and hearts focused on the same objective: to work so that humanitarian actions have a gender differentiated approach and that women in human mobility are considered agents of change and positive transformation for their communities as well as for the host communities in Ecuador.
On this day, it is important to highlight that humanitarian action has a high potential when it comes to generating capacities and spaces for peaceful coexistence through work aimed at the integration of the migrant population, refugees and host communities. It is one of the first responses that must be implemented correctly and be linked to subsequent actions for development, justice and guarantee of rights for the construction of positive peace. Greater social justice, economic equity and guarantee of rights for men and women in the territories are indispensable actions.